Home
Details

Written by

Gebbeth

Hits: 853
Howdy!
It's a new year (welcome to 2018!) and I would like to ask everyone to develop their Roster profile, just a bit. We want to be friendly, and for people to get to know everyone. The better we know each other, or our characters anyway, the better we'll enjoy gaming as a cabal. Of key importance is that we want members to be able you use the Roster to find people in their own time zone, and especially to help connect roles.
To this end, we are running a promotion this month, and if you will update your profile (Roster/My Profile/Profiles tab) so that you have at least a character pic, your time zone, and what role(s) you play, once you've done at least that much, meet me in-game for a 6-pack of Free Beer! That is for EVERYBODY during the promotion period (If your character doesn't drink, I'll respect that – we can do diet Bing cola or something). It's not bribery, it's appreciation! ;)
Additionally, at the end of the month we will randomly select 3 profiles with images. These 3 RNG winners will get (a prize to be determined)
There's a lot more you can do with your profile too. I've developed mine out pretty fully to show several examples of what you might want to include (https://www.nine-swords.com/cb-profile/438-gebbeth). Note that the profile is in two sections, one for the player and the second one for the character. Put anything you want here. This is your chance to talk about yourself and your in-game preferences and progress, and where you can share your character backstory – or current story.
When you're on your profile pages, just use the Edit menu button at the top. Katelin has developed a full set of instructions in the Directives to help with the UI (Your 9S Website Profile).
---
Details

Written by

Uragon Durendal Hunter

Hits: 920
The last year has sure been an eventful and exciting time. Between real life throwing lots of unexpected changes and interesting developments at us to the game also going through a massive change, the main constant appears to have been change. While that comes both in good and bad, the main way we can grow is by adapting to those changes and to make something positive out of them. The game turning into Legends has also done a lot to change Nine Swords in some ways, but we have similarly managed to very much stay true to what we stand for. Both growth and consolidation were important, and now we can start this year with the usual routines. If you haven't done so yet, I encourage everyone to come visit our 9S Resolutions thread and give us all an idea how you would like to move forward.
Most importantly however, keep in mind that we're here to have fun, and with that I wish you all a happy new year 2018, and hopefully many more years to come!
---
Details

Written by

Elizabeth Katelin Hunt

Hits: 712
A day early for bringing in the New Year - today we held our New Years 2018 Museum Reception and Tour. Thank you to Yuriksha for organising, and  thank you to everyone who has taken time to attend the event or contribute to our 9S Resolutions thread and tweet to us! 
The main hopes we have shared for our cabal were all fantastic - though what was most important to me, was to hear that so many of our members do have hopes for our future, do have things that they want us to achieve - and they want to be part of helping make that happen. That is an incredibly special thing to hear.
Whether you are in game, at home with your loved ones - or out on the town. Be safe seeing in the New Year, have fun - and see you in 2018!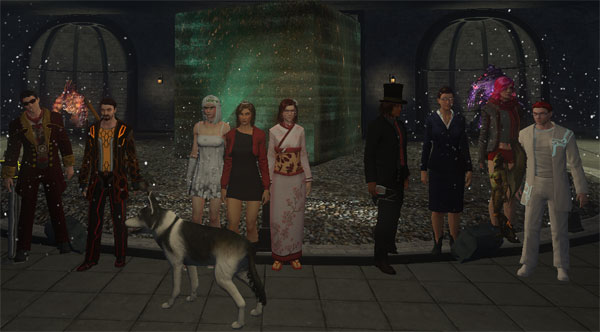 ---
Details

Written by

Elizabeth Katelin Hunt

Hits: 899
New Year's resolutions are the perfect opportunity to consider and develop new goals and ideas - and it is in this sense that I would love our cabal members to come together to think of some 9S Resolutions for 2018! We will be taking this topic to our New Years 2018 Museum Reception and Tour on the 30th December.
Feel free to post your ideas and goals here in this thread. You are all also very welcome to get your hashtags on and tweet your #9S2018 resolution - do not forget to also mention @Nine_Swords so we can collect them together.
---
Details

Written by

Elizabeth Katelin Hunt

Hits: 784
Honestly, I would have preferred coal instead of one of our leaders stepping down -- but you know Shock, a shiny bow on your head. It can be arranged!
Today I would like us all to join together to say a huge thank you to ShockG for his time as a leader within Nine Swords.  Your 2 years leading with us in Nine Swords has been so very much appreciated. I am thankful for your attention to detail, your knowledge and that you know Nine Swords inside out. I will definitely miss working alongside you, but am incredibly happy you will be staying in the cabal.
---