Summary 
The City of the Sun God Lair is located in the middle of the map. Raid members should arrive at the anima well called The Juncture. 
By completing all the missions in this lair with your team, you will get your hands on Essences to enable you to spawn bosses. As explained in our Introduction to Lairs - spawning and successfully killing these bosses is how you get your hands on loot!
Notes for this area:
As with all lairs, remember you are working in a team. Wait for your team mates if they die, always remember to run back if you die in Anima Form, communicate if you are missing something in order to complete a mission and most importantly - have fun together!
The lair is inside a temple area, consisting of three levels; the roof, the ground floor and an underground area. For a regular lair run, the raid usually stays on the ground floor and the roof. The underground area is where the regional lair boss can be summoned.  
Location overview map: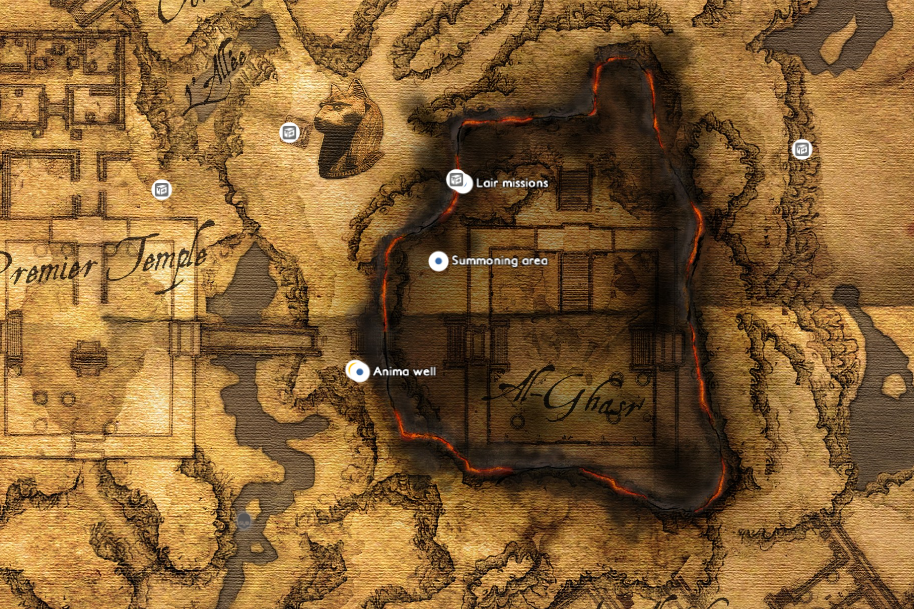 Missions
As in all lairs, there are 3 missions for you to complete. Ensure you pick all 3 missions up at the start of the lair so that your mission status progresses as you work through the lair with your team. The lair missions can be found by Shrine of Aten (418, 402).
Mission 1: Citadel of Pain
The sickness had burned into his mind by the time Akhenaten reached Al-Ghasr. Here he had them flay his political priosoners. Here he had them lash heretics to the rooftops so they'd cook in the sun. Thus he awaited the completion of his temple. 
Tier 1 of 1:
Kill 10 Beasts of Amarna
Kill 8 Palatial Guards
Kill 8 Amarna Priests
Mission 2: The Trinket Trail
When the Marya sought to overcome Akhenaten and put an end to his crazed work in the valley, they targetet Al-Ghasr. However, the strategic position was overrun with guards. To make up for the discrepancy in numbers, the Marya relied on other means of power. 
Tier 1 of 1:
Gather 4 Wandering Star fragments
Gather 4 Amandula fragments
Gather 4 Al-Daraqa fragments
Gather 4 Viage fragments
Mission 3: The Black Pharaoh's Guard 
This is a defense mission. To get the attention of the Black Pharaoh's Guard, someone in your raid must interact with the door to the dungeon. The door is located on the ground floor of the temple (472,271).
The pharaoh's forces ultimately fell, but never his elite guard. Long ago they took his place. Now, in the dungeons of Al-Ghasr, they prepare a new offensive. 
 Tier 1 of 1:
Get the attention of the Black Pharaoh's Guard
Kill the Black Pharaoh's Guard
Summoning lair bosses: 
Once missions are complete and handed in, you will have three summoning essences in your inventory. The lair team should head to one of the summoning platforms. It is most common to use the platform near the west side of the temple entrance. See above map for summoning location.  Read more about the lair bosses in the links below: