Home
Details

Written by

Elizabeth Katelin Hunt

Hits: 889
Swords, do you want to help our cabal be the best it can be? Join a Nine Swords division and help to plan events, support the cabal and maintain an active community. For more information: Division Overview
If you are interested in joining one of our divisions, please contact the current leader of that division. If it is a division without a leader, please contact Katelin or Durendal.
---
Details

Written by

Elizabeth Katelin Hunt

Hits: 817
The SWL Team is flipping things around a bit next week; NO LIMITS is back, and this time from Monday (April 30th) through until Thursday (May 3rd)!  All chests found in dungeons, lairs, and scenarios will not require keys to open during this time!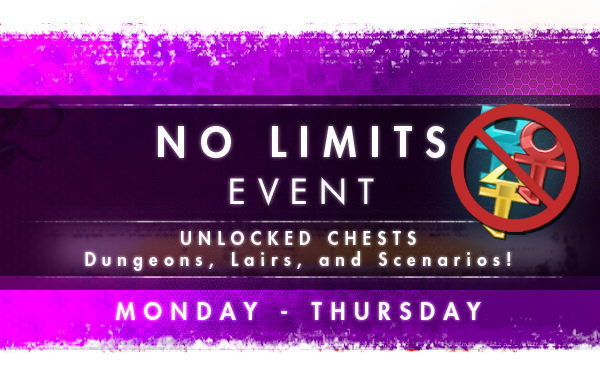 ---
 Edit: No Limits will continue through Thursday and end Friday morning EDT.
---
Details

Written by

Elizabeth Katelin Hunt

Hits: 649
Swords, Drina, SWL Community - Thank you just is not enough to convey really how thankful we are at the success of Cabal Pride 5.
We had so much fun, laughed so much and danced till we dropped. It was a fantastic first Cabal Pride for Secret World Legends!! And our 5th ever recruitment event for the community we all love so much.
Congratulations to the 3 winners of the trivia competition. Vomher, Cognizance and Lady-Pyre.
My absolute special thanks have to go to Yuriksha and Shadowcat-x - the planning team we formed together this year was really solid and ensured we ran like clockwork! 
Our next The Sword's Edge will have a summary of the event and lots of screenshots in it! If you need a screenshot fix right now though - head over to Twitter and check out the #cabalpride5 tagged Tweets!
We have already had requests for another Cabal Pride in the not so distant future - so watch this space!
---