Home
Details

Written by

Elizabeth Katelin Hunt

Hits: 508
The SWL Team is flipping things around a bit next week; NO LIMITS is back, and this time from Monday (April 30th) through until Thursday (May 3rd)!  All chests found in dungeons, lairs, and scenarios will not require keys to open during this time!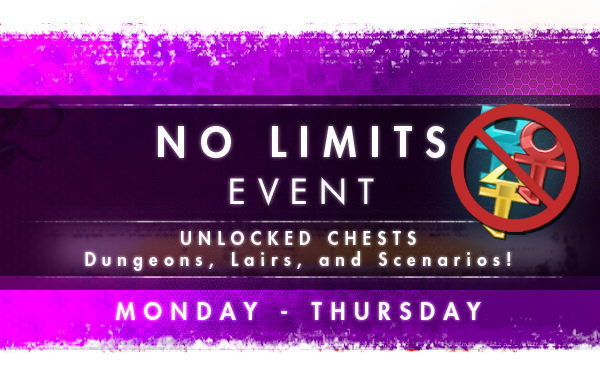 ---
 Edit: No Limits will continue through Thursday and end Friday morning EDT.
---
Details

Written by

Elizabeth Katelin Hunt

Hits: 385
Swords, Drina, SWL Community - Thank you just is not enough to convey really how thankful we are at the success of Cabal Pride 5.
We had so much fun, laughed so much and danced till we dropped. It was a fantastic first Cabal Pride for Secret World Legends!! And our 5th ever recruitment event for the community we all love so much.
Congratulations to the 3 winners of the trivia competition. Vomher, Cognizance and Lady-Pyre.
My absolute special thanks have to go to Yuriksha and Shadowcat-x - the planning team we formed together this year was really solid and ensured we ran like clockwork! 
Our next The Sword's Edge will have a summary of the event and lots of screenshots in it! If you need a screenshot fix right now though - head over to Twitter and check out the #cabalpride5 tagged Tweets!
We have already had requests for another Cabal Pride in the not so distant future - so watch this space!
---
Details

Written by

Elizabeth Katelin Hunt

Hits: 326
Today is Saturday 28th April 2018 - and FINALLY our first Cabal Pride in Secret World Legends!
We have a great range of different cabals signed up to present themselves today at our 5th Cabal Pride. We also have DJ Drina of Happy Tentacle Radio supporting us. Lots of members of our SWL Community have been drumming up support via Twitter this last week or two - and we are also proudly being promoted via the SWL Launcher too!!
Swords - if you are planning on attending today, there are a couple of things you need to be aware of that we are doing as a cabal. You can read about them in this thread here: Cabal Pride 5: What you need to know

---
Details

Written by

Elizabeth Katelin Hunt

Hits: 424
Congratulations to Cherrie for winning our outfit competition.
Thank you to all members who took the time to vote on your favourite. 
As winner, Cherrie takes away 75!!! Purple Container keys!!
---