Home
Details

Written by

Elizabeth Katelin Hunt

Hits: 333
Pretty sure noone in the cabal forgot.. but just incase: Cabal Pride 7 is TODAY! See you there!
Details

Written by

Elizabeth Katelin Hunt

Hits: 344
Hi all - if you know you haven't logged into SWL this year, and you are reading this without being logged into our website / forums - please log in and look for the PM I sent to you on the 4th April (and reply to it if you can!!).  If we do not hear back from you, or see you in game by the 1st of May, then we wish you all the best for the future. If you do decide to return to SWL at any point in the future, it would be a pleasure to re-recruit you.
Thank you 
---
Details

Written by

Elizabeth Katelin Hunt

Hits: 354
Today we have launched issue 44 of our cabal newsletter The Sword's Edge Issue 44 ! 
With it, we have also launched an event that is focussed on your museum completion called Nights in the Museum.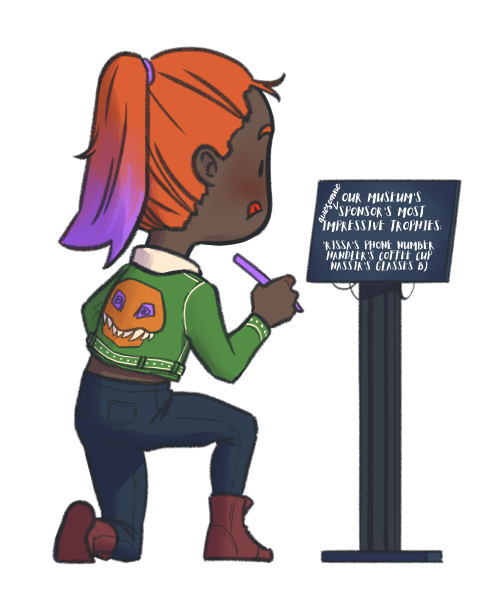 Thank you to DW for the gorgeous artwork for this months issue! 
---
Details

Written by

Elizabeth Katelin Hunt

Hits: 398
Congratulations are in order! Rifla has just been promoted to co-lead of our PvE Division! 
You can join me in giving him work to do in this post here : https://www.nine-swords.com/forums/14/12773?p=82975
*giggles*
---
Details

Written by

Elizabeth Katelin Hunt

Hits: 350
As someone who has been with the cabal from its inception, I unfortunately often incorrectly assume that of course everyone already read through *everything* in our forums and on the website and knows everything about Nine Swords … apparently, this is not always the case! Who would have thought.
During a discussion around the middle of February, one of our newer members asked me about how the cabal was founded - and I linked him to the story that our founding members wrote together. He then linked it to other members to show them how awesome it was. Never for the life of me did I think that anything further would come of it - until the end of February.
In the space of a month, HolloPoint has worked tirelessly on creating Nine Swords Origins, a graphic novel based on the story our founding members wrote together. It is absolutely sensational and brought back some fantastic memories to me about how Nine Swords was born.
I cannot recommend strongly enough that you should all go RIGHT NOW and take a look at the amazing work of art that HolloPoint has created.
HolloPoint, thank you from the bottom of my heart for creating this. I hope that many people take a look enjoy reading, and seeing how you visualised the story! It is incredible! 
Link to Nine Swords Origins: Nine Swords Origins
---