Home
Details

Written by

Elizabeth Katelin Hunt

Hits: 1005
---
Congratulations to Mayday on her promotion to co-leader of our PvE division. She joins the formidable team with Phanth and Rokynn and strengthens our US timezones leadership presence.
---
Details

Written by

Elizabeth Katelin Hunt

Hits: 1156
The year is racing to its end, and we still have so much to do! The winter event for Secret World Legends will launch on the 12th December, and brings with it the return of Krampusnacht as well as the Winter Cache.
For this months Newsletter, we decided to have a slightly different format - and have a look back on this year. It has certainly been packed full of fun together, overflowing at the seams with ideas and I know I am likely not alone in having hopes and dreams for our 2019 together.
Head over to The Sword's Edge Issue 32 to read the newsletter and find out more about our Challenge for December, Swords!
---
Details

Written by

Elizabeth Katelin Hunt

Hits: 921
During November and until the 1st of December I ran a challenge for all cabal members to participate in. It was announced in our Newsletter and in our MoTD in-game.

The requirements were small -
1. Log in to Nine Swords cabal chat in game
2. Ensure to have an image uploaded to your roster page in the forums.
34 members managed to fulfill both requirements and were therefore entered into our prize draw. I am happy to announce that our winners are: Snotty, Alepouditsa and Xphyle.

The Prizes are:
Sanguine Ghoul (donated by Durendal)
Mini Mecha (donated by Yuriksha)
Herald of Carnage (donated by Katelin) 
You can claim your prize by checking out the forum post here: https://www.nine-swords.com/forums/53/11893?p=77941#p77941
---
Details

Written by

Elizabeth Katelin Hunt

Hits: 1228
Krampusnacht 2018
The Secret World Legends winter event starts on Wednesday December 12th, 2018. Krampusnacht returns this year along with the winter cache. More information incoming!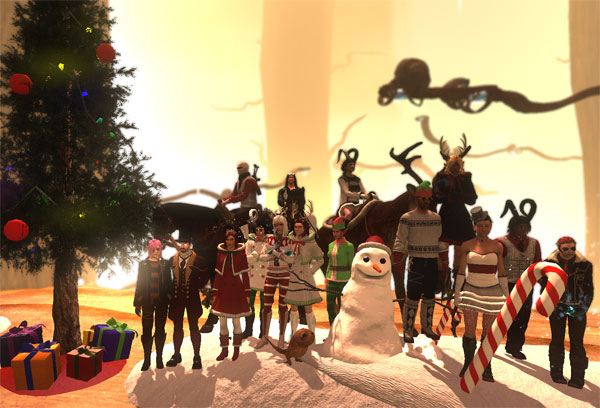 ---
Details

Written by

Elizabeth Katelin Hunt

Hits: 1129
Nine Swords Member Awards are a fantastic way for our leadership team to recognise the hard work, achievements and participation of our cabal members. It is a way for us to show that we see you doing things to positively impact our cabal. The main way we will be awarding you - will be with shiny medals!!   
Starting today, you can be awarded medals by our leadership team. There are multiple things you can do to gain medal awards in Nine Swords - by contributing to our divisions, by fulfilling the requirements for our one-off rewards or by attending a workshop. 
For more information why not take a look at our 9S Member Awards directive. 
---