Home
Details

Written by

Elizabeth Katelin Hunt

Hits: 1075
The Secret Buzz, Club Catharsis, Radio Free Gaia's DJ Psywarrior and Hikari Kenzaki and hereby invite you to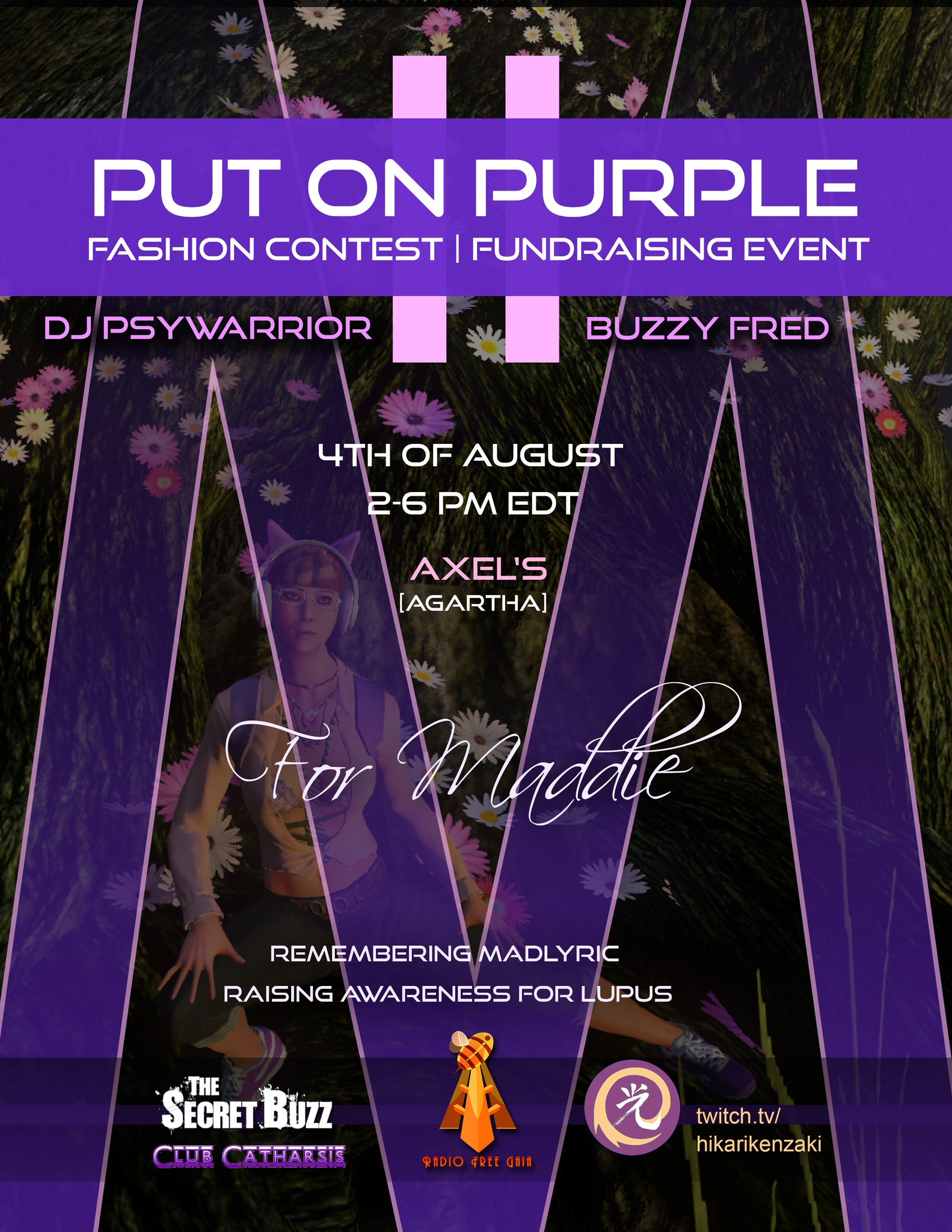 The event will include two fashion contests and fundraising for http://lupus.org in honor of MadLyric.
Let's join with our community and go PurpleForMaddie and aim high!
---
Details

Written by

Elizabeth Katelin Hunt

Hits: 1205
Today we are very excited to announce that Rokynn has been promoted into our Nine Swords leadership team. We are very pleased that he has agreed to join our leadership team and that he will be side by side with Phanth, fighting over cookies and ensuring we have a strong PvE division to cater for all our monster bashing needs!
Congratulations on your promotion, Rokynn!!
---
Details

Written by

Elizabeth Katelin Hunt

Hits: 1137
Andy posted over in the official Secret World forums today to talk a little bit about upcoming missions, due in the coming weeks. One of these new missions will be a new action mission set in New Dawn that may help answer a loose thread encountered in South Africa.
The other missions, are three Faction Ranking Missions, redesigned for Secret World Legends: Into Darkness, Venetian Missile Crisis, and Rogue Agent!
More details will be available with the official release of these missions, but you can take a read of the full forum post from Andy here
You can also discuss this new news here in our internal forums, Swords!
---
Details

Written by

Elizabeth Katelin Hunt

Hits: 1018
It has been a fabulously fun packed month of June for Nine Swords and the whole Secret World Legends community - and you definitely all deserve a 5minute break … so feet up, grab a cup of tea and settle down with the latest issue of the Nine Swords Newsletter!! 
---
Details

Written by

Elizabeth Katelin Hunt

Hits: 1142
Today, our traveller - Shin, stopped by the forums to give us an update. With his update, he also announced that he will be stepping down as a leader within Nine Swords. I know I am not alone in appreciating all the efforts that Shin has invested into Nine Swords - so please join with me in wishing him well and thanking him for being a great leader in our cabal!!
---