Home
Details

Written by

Elizabeth Katelin Hunt

Hits: 405
The 50th issue of our cabal newsletter has been released! You can read it here: The Sword's Edge Issue 50
Thank you to all of you for being here for each other this year, hope to see lots of you getting involved in our December antics.
---
Awesomely gorgeous artwork created by DigitalWraith in this months newsletter of D... I mean Richard. 
---
Details

Written by

Elizabeth Katelin Hunt

Hits: 543
Our time is likely the biggest gift you can give anyone. Which is why for this years Santa Swords - this is exactly what we want you to do.

Santa Swords 2020: Plan and run an event for our cabal during December!

From the first of December through to Sunday 27th December, we want you to come up with an idea of what you want to do.. and then we want you to invite members of our cabal to join you for that event - and we want a screenshot to see it happened!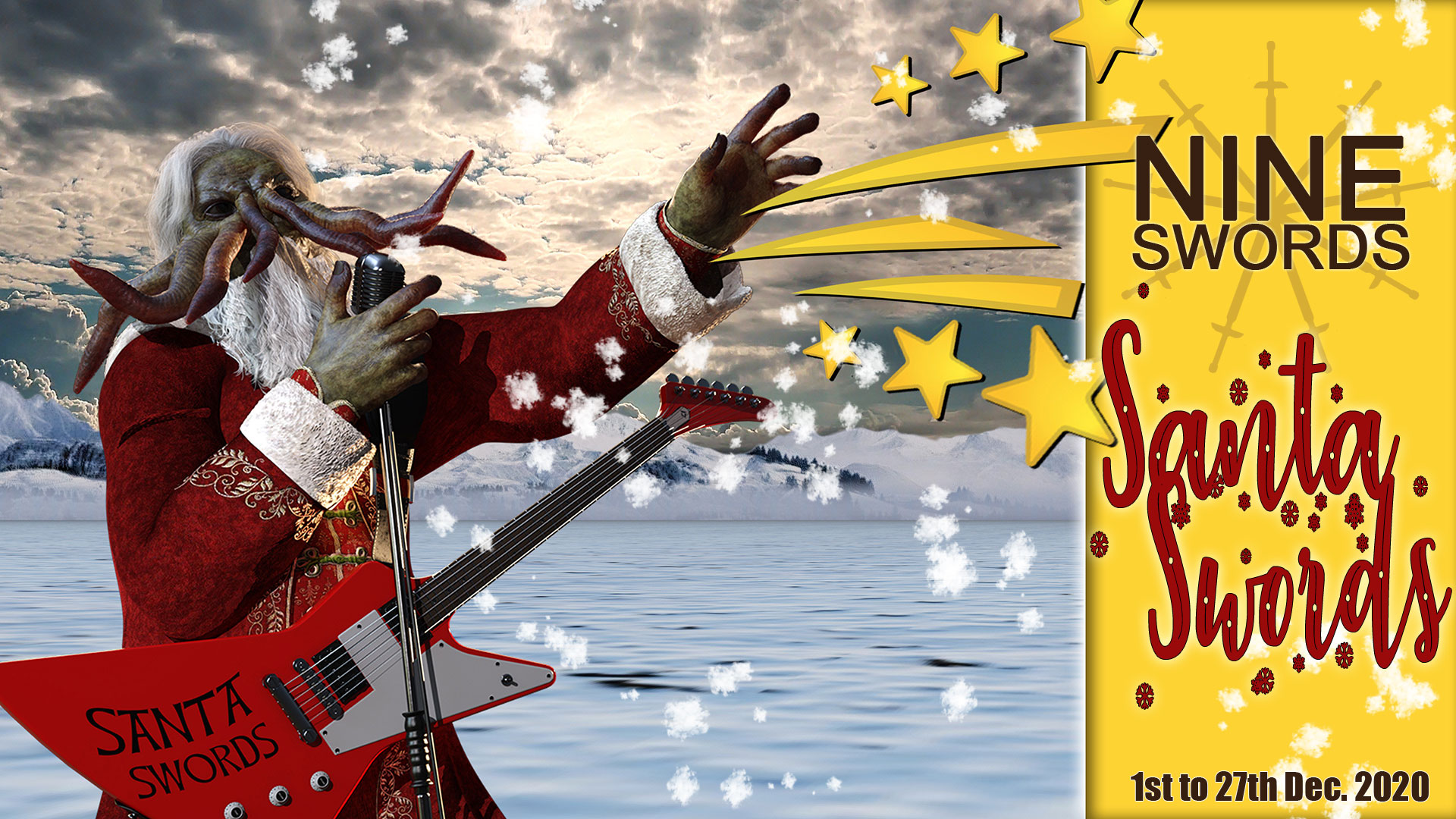 For more information, Swords - head over to the Noticeboard forum here: https://www.nine-swords.com/forums/18/13131?p=85358
---
Details

Written by

Elizabeth Katelin Hunt

Hits: 477
It's is the last day to get your submissions in for our Five feats for Samhain achievements and Prize Draw! There have already been lots of entries, but there is still time if you want to make a last dash and be in the prize draw for submitting entries for all 5 feats. We will be running the prize draw tomorrow and announcing winners during the course of Monday.
Today, we launch a new competition for November! 
9S Winter Warmers
In many parts of the world, the nights are drawing in. It is darker earlier, and the chilled damp days are common place. What is better during this time than to find ways to be warm and cosy?

We think the only thing better than finding ways to be warm and cosy is sharing those things with our cabal! So, Rifla and I are setting you some 9S Winter Warmers Challenges! You can head over to this thread here to find out more.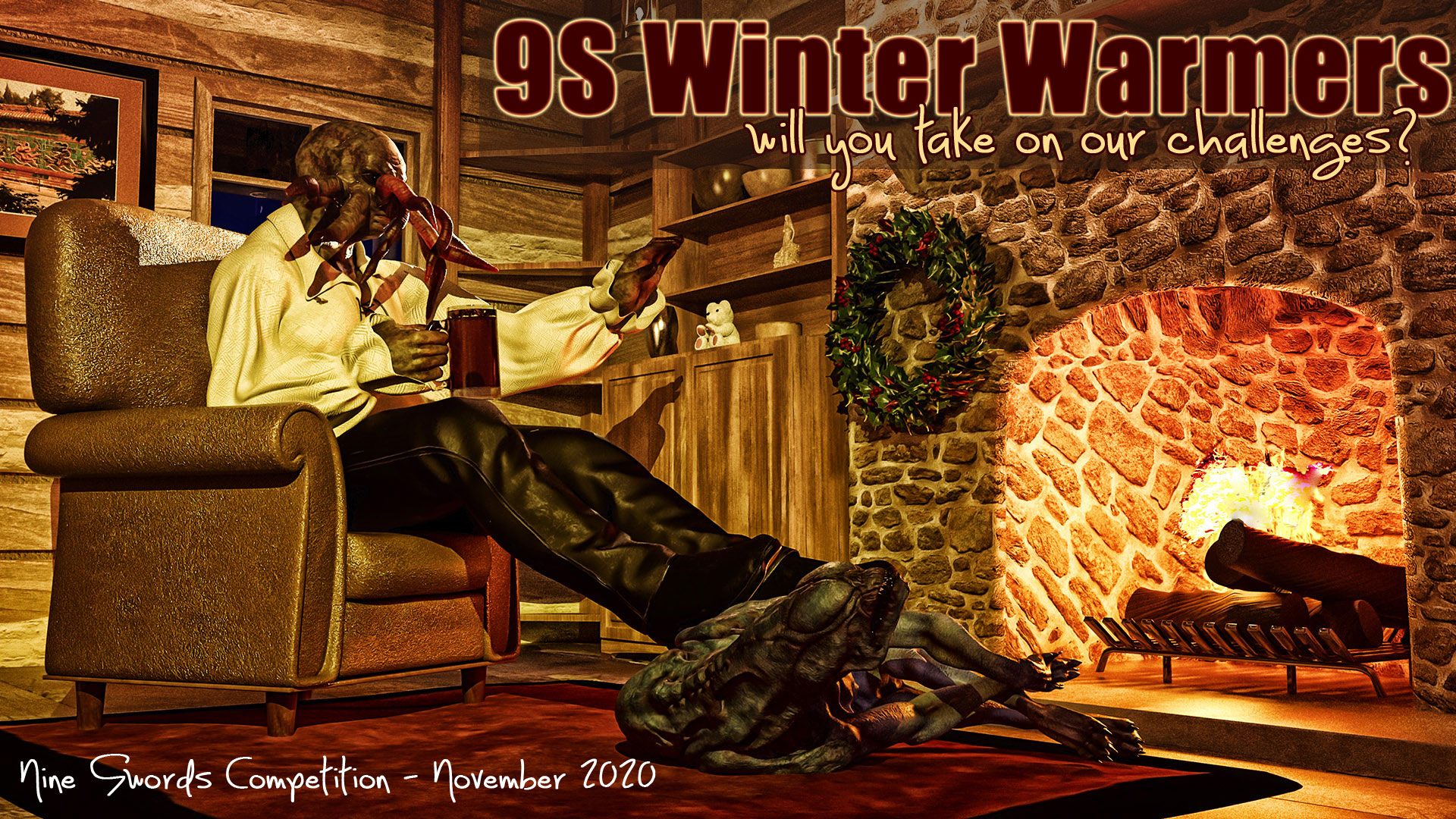 Thank you to HolloPoint for this warming treat of an image! 
---
Details

Written by

Elizabeth Katelin Hunt

Hits: 550
The final three chapters of Nine Swords Evolutions have been released by HolloPoint today! Thought your weekend was plain sailing so far? Hold on tight - you are about to go on a wild adventure with the Nine Swords team!
You can read the final three chapter via this link here: https://www.nine-swords.com/knowledge-base/nine-swords-evolutions?start=140
Alternatively, if you have waited for the entire novel to be published so you could binge it all in one go, you can use this link: Nine Swords Evolutions
HolloPoint - you have woven a fantastic piece of artwork and story telling! We are very thankful and honoured you invested so much time and energy to do this for us!! 
Swords, if you want to comment on Nine Swords Evolutions, you can do so in this forum thread here: https://www.nine-swords.com/forums/53/13079
---
Details

Written by

Elizabeth Katelin Hunt

Hits: 557
Today is the Nine Swords and League of Monster Slayers MONSTER BASH!! We want to see as many of you there as possible in your scariest Halloween costumes. 
We are going to be in Agartha summoning from around 12noon GMT. You can see the schedule / summoning teams here in the Noticeboard thread . The last scheduled summoning team is at 1am GMT. 
If anyone wants to tank / heal from either cabal and sees open summoning slots, please either respond to the thread or get in touch with Katelin. 
See you all in game! 
---